ASUS Reveals the GeForce® GTX 670 DirectCU II TOP Graphics Card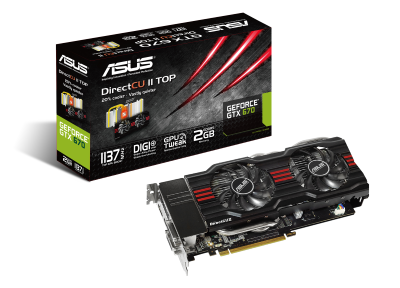 The self-designed ASUS GeForce® GTX 670 DirectCU II TOP brings NVIDIA® 28nm "Kepler" GPU technology to a wider audience while maintaining extreme gaming performance. The enhanced edition uses carefully TOP-selected cores that are factory-overclocked for instant speed boosts. With 2GB GDDR5 and 1344 CUDA cores, the new card makes the most of exclusive ASUS DirectCU heat mitigation. Utilizing exclusive 8-phase DIGI+ VRM power delivery and Super Alloy Power components, it runs 20% cooler and considerably quieter than reference, opening up new overclocking possibilities with ASUS GPU Tweak. Advanced NVIDIA® technologies such as GPU Boost, TXAA, and Adaptive Vertical Sync further contribute to genuine top tier gaming performance.
Only the best gaming with ASUS TOP-selected graphics cards
An extensive battery of tests conducted by ASUS engineers scans entire batches of NVIDIA® GeForce® GTX 670 GPUs for the most reliable and durable parts. After undergoing rigorous thermal tests and overclocking trials, these elite GPUs are paired with custom-designed PCBs, and the assembly is then put under further grueling inspections to ensure maximum performance in the face of extreme voltages and temperatures. ASUS TOP cards therefore meet the exacting standards of even the most demanding overclockers, and can handle the highest-end PC gaming with ease. Thanks to the TOP process, the core used on the GeForce® GTX 670 DirectCU II TOP has been factory-overclocked to 1137MHz, offering gamers an immediate framerate gain.
DirectCU II eliminates 20% heat and unwanted noise
The proprietary ASUS DirectCU cooler uses all-copper heat dissipation points and an overall 200% larger heat removal area to ensure lower temperatures. With 20% cooler operation compared to reference, the ASUS-designed card can take more intense gaming and overclocking, and lasts longer. At idle, its twin fans work at much lower sound levels than stock cards, creating yet another DirectCU-based low noise, low heat, and high output graphics powerhouse.
Sophisticated DIGI+ VRM power delivery with Super Alloy Power technology
Digital voltage regulators and 8-phase power provision form the basis of exclusive DIGI+ VRM, a design originally used on bestselling ASUS motherboards. DIGI+ VRM lowers power noise by as much as 30% for cleaner, more stable, and 15% more efficient performance. As a consequence, DIGI+ VRM helps the GeForce® GTX 670 DirectCU II TOP outlast reference cards by a factor of 2.5. It is joined by exclusive ASUS Super Alloy Power solid state capacitors, chokes, and MOSFETs, which are specially-formulated for high demand overclocked operation and extended product lifespan.
Intuitive GPU Tweak suite harnesses great graphics tuning power
Accommodating more advanced 28nm graphics card technology, ASUS continues to modify its exclusive GPU Tweak card tuning utility. The latest version offers more overclocking features than before, and adds precision power target settings. It also enables fan speed adjustments and live driver/BIOS updates. Gamers can use a convenient on-screen widget to keep a close eye on card conditions while in-game.
Faster, smoother, and richer gaming action
The DirectX® 11-optimized GeForce® GTX 670 DirectCU II TOP incorporates several new NVIDIA® technologies, such as GPU Boost auto core clock maximization and TXAA advanced anti-aliasing. Both contribute to smoother and better-looking games, as does real time Adaptive Vertical Sync. The card also offers gamers enhanced single-GPU support for NVIDIA® 3D Vision™ technology.
1 Comment