Logitech Sets its Sights on Night Vision with New Indoor Master Security System and Add-On Camera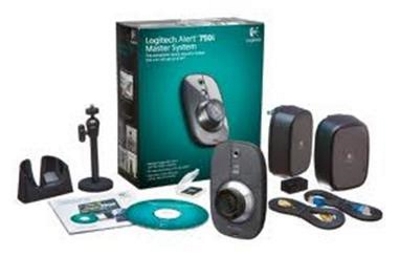 Today Logitech (SIX: LOGN) (NASDAQ: LOGI) expanded its Logitech® Alert™ lineup by introducing the Logitech® Alert™ 750n Indoor Master System, a complete video security system in a box that enables you to be there – even when you're not. Easy installation, wide-angle night vision, powerful PC software and a free remote viewing account let you rest at ease whether at home or away, with peace of mind that your property and loved ones are safe.
For expanded security coverage, Logitech also introduced the Logitech® Alert™ 700n Indoor Add-On Camera. This stand-alone night-vision camera is easy to add to your existing Logitech Alert Master system so you can see what's going on in other rooms or locations.
Thanks to HomePlug® networking, installation for both the system and add-on camera is easy, and there's no need to run wires or bother with tricky network configuration. Simply plug your camera into a wall power outlet, and HomePlug uses your electrical wiring and outlets to connect your camera to the network and transmit video securely.
The Logitech Alert 750n Indoor Master System and the Logitech Alert 700n Indoor Add-On Camera both offer high-quality HD video (960 x 720@ 15fps), a 130-degree wide-angle and powerful night vision that delivers up to twice the viewing area compared to standard cameras. This makes it easier to recognize people and other objects more clearly, day or night. You can see up to 50 feet in complete darkness with high-powered illumination, so you'll never again find yourself afraid of the dark.
"By bringing our night vision capabilities to indoor cameras with the Logitech Alert 750n Indoor Master System and the Logitech Alert 700n Indoor Add-On Camera, you get a premiere security system package," said James Lopez, general manager of digital video security at Logitech. "The wide angle lens gives you the ability to see up to twice as much viewing area, even in complete darkness.  And if there is motion on your property, its automatic alerts let you know about it in an instant – even if you're out of town."
Additionally, the system and add-on camera have motion-triggered recording, which automatically triggers video recording and can be set up to send notifications to your e-mail address and mobile phone, keeping you informed. You can even specify 16 motion-detection zones within the frame.
Pricing and Availability
The Logitech Alert 750n Indoor Master System and Logitech Alert 700n Add-On Camera are expected to be available in the U.S. and Europe beginning in May 2012, for a suggested retail price of $299.99 and $229.99, respectively. For more information please visit www.logitech.com or our blog.
1 Comment