Samsung expands its popular GALAXY Tab range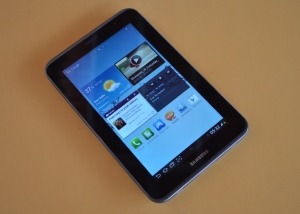 Samsung Electronics Co., Ltd, the leading mobile device provider, today announced the launch of Samsung GALAXY Tab 2 310 expanding its popular GALAXY range. Light and portable, the GALAXY Tab 2 310 is the perfect on-the-go device. The new seven inch device, available with 3G and WiFi, encompasses Samsung's vision to offer a range of tablets across different screen sizes to match the varied needs and lifestyles of consumers.
"Tablets are increasingly finding adoption amongst consumers because of their richer more converged experience. Users are able to surf the internet, enjoy multi-media and manage their work and life while being on the move. The new GALAXY Tab 2 310, with its powerful processor, Android 4.0 and its seven inch screen, make it extremely powerful and convenient device to carry", stated Mr. Ranjit Yadav, Country Head, Mobile and IT, Samsung India.
Explore more, download faster, share with friends
Samsung's first Android 4.0-powered tablet features new and improved Android OS features. This includes Google Play™, your new hub for more than 450,000 applications, as well as improved web browsing, faster response times and a more intuitive UI with upgraded swipe control applications.
Samsung's Readers Hub gives users access to more than 2 million e-books, 3,500 magazines in 25 languages and more than 2,000 newspapers in 51 languages, the Game Hub instantly connects users to the latest game titles and 'My Movies' gives consumers access to more than 500 full movies and more than 2500 music videos .The GALAXY Tab 2 310 is powered by a 1GHz dual core processor that makes it a true powerhouse for multimedia downloading and sharing. The GALAXY Tab 2 310 can also access content from the cloud via AllShare Play, which allows content to be transferred between the tablet and other devices.
With its 3G+Wifi capability, users can experience high speed downloads and very fast web experience on the Galaxy Tab 2 310 .The GALAXY Tab 2 310 features WiFi Direct and built-in social networking features such as ChatON, Samsung's unique cross-platform communication service which makes connecting and sharing socially easier than ever. Weighing only 345 grams, the GALAXY Tab 2 310 is fully equipped with mobile voice call feature which enables users to communicate freely with great portability. It comes with an extended 4000 mAh battery and 16 GB storage expandable upto 32 GB for extra storage of large size multimedia and digital contents.
The GALAXY Tab 2 310 is priced at Rs 23,250/-. Tata DOCOMO is giving a very attractive offer of 3GB data download free to customers over a 3 month period with the Galaxy Tab 2 310.
Leave a Response