The future of scrapbooking is online at CropMom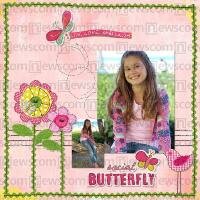 Scrapbook enthusiasts are putting away scissors and glue and going online to CropMom to create one-of-a-kind digital scrapbook pages using their treasured family photos.

CropMom at https://www.cropmom.com lets anyone create scrapbook pages, greeting cards and digital art online using designer scrapbook graphics.
It's the latest trend in scrapbooking, says Kathryn Balint, founder and chief executive of CropMom Corporation.
"The online scrapbook pages created at CropMom look like the real thing, complete with digital stitching, buttons, background papers and even shadows," Balint said.
CropMom at https://www.cropmom.com is free to registered users and includes all of the tools and graphics needed to make a digital scrapbook page. Users upload their photos to the CropMom Website then use CropMom's Builder to drag and drop photos and graphics onto a canvas. Users can even add their own text.
For those users who need help with a design, CropMom offers templates, or pre-made layouts for everything from baby books to heritage pages that can be customized in minutes.
After completing a layout, CropMom users may share their layouts for free through e-mail or by downloading a screen-quality file that can be posted on a blog or Website.
Users can purchase print-quality digital files of their layouts from CropMom for $1.79 each. Money-saving packages of layouts are also available.
The print-quality files purchased and download from CropMom can be printed at home or can be printed by a third-party photo service, such as Snapfish, Shutterfly or Kodak Gallery.
"One of the most popular ways to show off scrapbook pages made at CropMom is to have them printed as a photo book by a photo service," Balint said.
CropMom makes it easy to create personalized gifts. Some CropMom users have their digital scrapbook pages printed by third-party photo services on mugs, mousepads, notebooks, coasters and other photo products.
Online scrapbooking at CropMom is economical because there are no scrapbook embellishments or software to buy, and it eliminates the mess of paper scrapbooking.
1 Comment