Homer and Marge on your cell phone!
Jul 13th, 2007 | By Editor | Category:
Mobile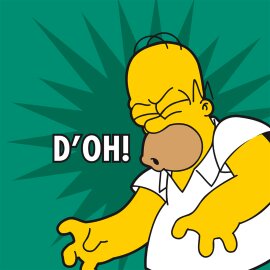 The next time you hear, "D'oh!" or "Hey everybody pay attention to me. I'm a big, fancy jerk with a big, fancy cellphone," it'll probably be coming from a mobile phone near you because those phrases, along with a range of other content from The Simpsons, are available for the first time to mobile users, exclusively at the movie's website and Jamster. The Yellow Plan is a subscription service offering exclusive made-for-mobile content based upon the popular animated television series, The Simpsons.
Simpsons fans will show their true colors as their phone rings with Homer voicing classics like, "Mmm … donuts" or "Woo-hoo!" They can shake and grind to the famous Itchy and Scratchy theme song ringtone or dance to a jazz version of The Simpsons theme song. Consumers will also enjoy the screensavers showing Homer as Mr. Sparkle or the wallpapers of Marge and her famous quotes. For only $9.99/month, fans can make use of six credits to purchase a broad selection of new Simpsons content including ringtones, voicetones, wallpapers and screensavers. New content will be available every month.
Additionally, Yellow Plan subscribers will have the chance to play as Homer in The Simpsons: Minutes to Meltdown, a mobile game from Electronic Arts, stocking up on donuts and sneaking past Krusty the Clown and Officer Lou to save Springfieldians from potential nuclear meltdown. The mobile game is a laugh-out-loud, beat-the-clock adventure game that will surely touch Simpsons fans.
Unfortunately, for Indian fans, there are no details available and they must wait until an Indian company is offering it.
Tags: Simpsons movie, Homer Simpson, Marge, D'oh
Share This